---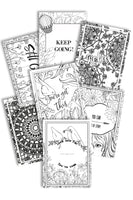 Sale
Adult Coloring Sheets {10+ Pages}
Sale price $1.00 Regular price $7.00
Tax included.
This is a digital product you'll download and print. Please be aware. We will not be giving refunds.
You've been scrolling social media for hours, you're not feeling that Netflix series, and you don't feel like going out and socializing.
I've been there so many times! Which is why these Adult Coloring Sheets are exactly what you need. :)
And whether you're stuck at home or just wanting to pass the time doing something fun and uplifting, these 11 coloring pages have been lovingly designed just FOR YOU! ❤️ 
Featuring 3 horizontals and 8 verticals, these high-resolution coloring sheets are the perfect downtime escape for you or a loved one. 
Side Note: The 85+ Page Rainbow Coloring Bundle pairs great with this! :)
Messages on the sheets include… 
Still Growing 
Keep Going! 
You can. End of story. 
Relax 
You've got this 
Hey. You are strong. 
You're okay 
Look how far you've come 
Simply download the sheets, print them off, and get coloring! 
We will send you your products over the internet by download.
Downloads should occur once checkout is complete but you will also be sent an email confirming your purchase that will contain a download link.
Please note that we recommend downloading your purchases on a desktop or laptop since phones and tablets often have difficulty downloading (and unzipping) large files.

Our largest files will come in the form of a ".zip" file. To unzip a ".zip" file, simply follow these instructions:
1. Using your desktop or laptop computer, save the ".zip" file to one of your folders.
2. Right-click on the ".zip" file and select "Extract All" to unzip the file and automatically create a new file which will be accessible to you.
3. You may need to install a free program from the internet that will extract the file for you if your laptop or computer do not have extraction capabilities built-in. (Here is a free tool we recommend).
4. If you want your product on your phone or tablet, add the file to iCloud, Dropbox, or Google Drive so you can then access them on your phone or tablet. (You may need to install an app on your phone or tablet that can unzip ".zip" files if you do this.)
5. All of our files are in the PDF format and can be accessed via Adobe Reader or similar free programs.
Still need assistance? For a more in-depth guide on downloading your products, click here.
---
Instant digital download (nothing will be shipped.)

If you have any questions about this product, please don't hesitate to contact us at contact@chasingfoxes.com